Since its opening in 1983, the Tokyo Foreign Language Academy Japanese Language School has been striving to provide Japanese language education in order to produce human resources who can play an active role on the global stage.
On the occasion of the 40th anniversary of its founding in 2023, it was reborn as the Maruwa Gakuen Educational Corporation Tokyo Foreign Language Academy Japanese Language School.
We will continue to work hard on Japanese language education with the goal of developing highly sensitive human resources who can contribute to the future.
Message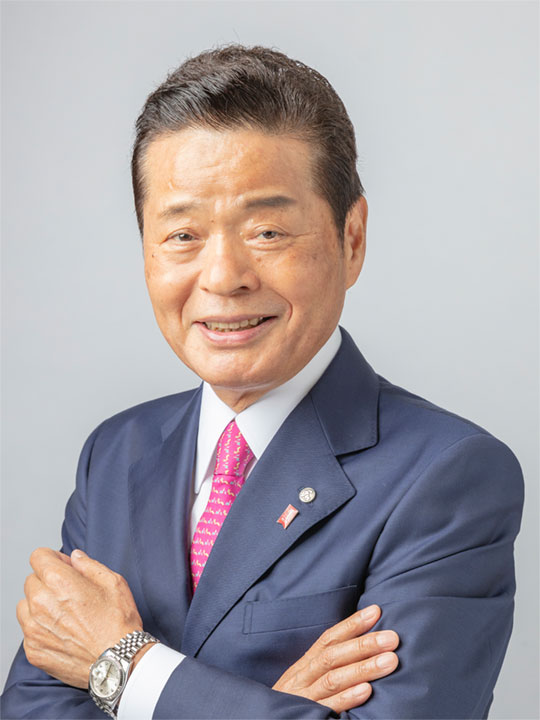 The founding philosophy of Maruwa Gakuen Educational Corporation is to spread the Japanese language throughout the world and to create a diverse, harmonious society through correct use of the Japanese language.
Maruwa Gakuen accepts students from all over the world, providing opportunities to study Japanese correctly and helping students to achieve their dreams of entering Japanese institutions of higher learning. To this end, we place great importance on creating an environment in which students can enjoy a fulfilling study abroad experience. We will do our best to support you as you pursue your dreams.
The world is truly a global society, and although national borders exist, it is impossible for any country to manage human exchanges, economic activities, or environmental problems on its own. I am certain that learning Japanese will expand your opportunities to play a role in the international community. I hope that young people from around the world will deepen their intercultural exchange through their studies at our school and, as suggested by the phrase "the joy of encountering others," they will cherish human connection and become a bridge between Japan and the rest of the world.
Maruwa Gakuen Educational Corporation
Chairman of the Board Masaru Wasami
Profile
1970
Established Maruwa Unyu Kikan Co., Ltd.
2014
Listed on the Second Section of the Tokyo Stock Exchange
2015
Designated to the First Section of the Tokyo Stock Exchange
2022
Transitioned to the Tokyo Stock Exchange Prime Market
Company name changed to AZ-COM MARUWA Holdings as a pure holding company.
2023
Founded Maruwa Gakuen Educational Corporation, and assumed the position of Chairman of the Board
History
1983
Japanese Language School of The Tokyo Foreign Language Academy established
Approved by the Governor of Tokyo based on the School Education Act
1991
School accredited by Ministry of Justice
2004
Start of TGN Scholarship Program
2023
40th anniversary of founding
School overview
School name
Maruwa Gakuen Educational Corporation
Japanese Language School of The Tokyo Foreign Language Academy
Address
3-19-21 Ukima, Kita-ku, Tokyo 115-0051
Tel
03-3966-8910
Fax
03-3966-1836
E-Mail
office@tgn.ac.jp
URL
https://www.tgn.ac.jp
Class
Japanese Language Course (morning class/afternoon class)
Capacity
80 people
Principal
Eiko Sazawa
Achievements of international students
France, Romania, USA, China, Hong Kong, Taiwan, Malaysia, Indonesia, Singapore, Vietnam, Myanmar, Nepal, India, Philippines
Features of the school
Every year, many students from all over the world come to our school.
The purpose of studying abroad is various, such as going on to higher education, finding a job, and improving skills.
At our school, we are devising ways to help you acquire Japanese that can be used anywhere.
As part of school education, we have incorporated "intercultural exchange with Japanese people", and many local volunteers and Japanese university students regularly participate.
We are striving to improve your Japanese proficiency by experiencing live Japanese through actual conversations.
Furthermore, with an understanding of Japanese culture at the core, we continue to devise and research class content so that students can gain a deeper understanding of the characteristics of Japanese society, industry, and culture.
We hope that you will become an international person who can play an active role in the increasingly globalized and diversifying modern society, and become a human resource who can serve as a bridge between worlds.
In a homely environment, listen to the concerns and worries of living in an unfamiliar country,
All the teachers and staff will support you so that each student can study with peace of mind and have smooth communication.